AmeriCorps JD is now accepting applicants!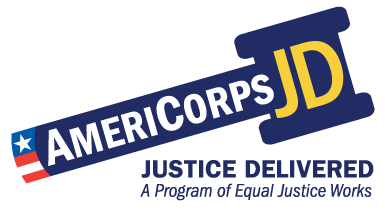 We will accept applications through April 15, 2015 from students, who not only work in the priority areas defined below, but who provide service to low-income communities in other areas of law. The 300 service hours required to earn the education award can be completed anytime from when the application is accepted and the background check has been initiated through August 31, 2015.
PRIORITY AREAS: Priority will be given to applications from students who are serving veterans, military families or victims of disasters, or focusing on removing barriers to employment or housing. However, we also have many spots available for students working with other populations and in other areas of law.
Some more examples of the type of work students can do within these priority areas include:
Direct legal services: intake, legal form preparation, performing client and witness interviews, advocating for clients by telephone and in person, attending hearings, assisting attorneys in legal representation, carrying out legal research and writing
Outreach and education: developing and distributing fact sheets, developing and delivering training on legal topics or on how to access legal services, ensuring potential clients are aware of their rights and available services
Capacity building: activities which build the capacity of your host organization or other organizations to provide services in the previously specified priority areas, such as an organizational assessment, compiling best practices, organizing focus groups, leading planning committees
You can also learn more about organizations and the legal services being provided for veterans, disaster, and employment issues by viewing our Fellow profiles on our website.
The AmeriCorps program, under the Corporation for National and Community Service, has a list of prohibited activities that cannot be included in the hours of service completed to earn the Segal AmeriCorps Education Award. A list of these activities can be found here.
Students serving in the priority areas or other issue areas may apply now through Wednesday, April 15, 2015. Visit our website for more information about the application process. Questions may be directed to AmeriCorpsJD@equaljusticeworks.org.
UW Law Students: Re-ignite your Social Justice Heart and Vision at the Annual Trina Grillo Retreat in Sunny Santa Clara, CA!
The Trina Grillo Retreat at Santa Clara Law (March 20-21, 2015) provides a unique opportunity for
public interest and social-justice oriented law students, faculty, and practitioners to forge an alliance by exchanging viewpoints, exploring career opportunities, and formulating strategies for social justice.
Join with law students from several west coast law schools to re-imagine the next generation of social justice lawyering.  Funding up to $250 in reimbursement is available for UW Law students interested in attending.  Send a letter of interest and resume to mestorms@uw.edu by Feb 20 noon  if you would like to attend.
Attention Recent Grads! You Can Help Preserve Public Service Loan Forgiveness
Please don't forget to fill out and pass on Equal Justice Works' quick survey about the effect of Public Service Loan Forgiveness (PSLF) on your career. While they hear anecdotally how critical PSLF is to making long term public interest careers possible, there is little hard data on the program's impact. If Congress does propose capping the amount of forgiveness borrowers can earn, this data will be invaluable in helping Equal Justice Works and a coalition of interested groups advocate for it. The deadline for completing the survey is March 2, but please complete it as soon as possible in case Congress acts sooner. Thank you for your help on this urgent issue!
Keep Up To Date on Student Debt Issues!
Make sure to follow Equal Justice Work's new blog on the Huffington Post to keep up to date on student debt issues. They've been writing recently about "Affording College in a Time of Income Inequality," "3 Student Loan Repayment Plans You Need to Know About," and "8 Lessons We Learned About Student Debt From the Class of 2013."